In the heart of the city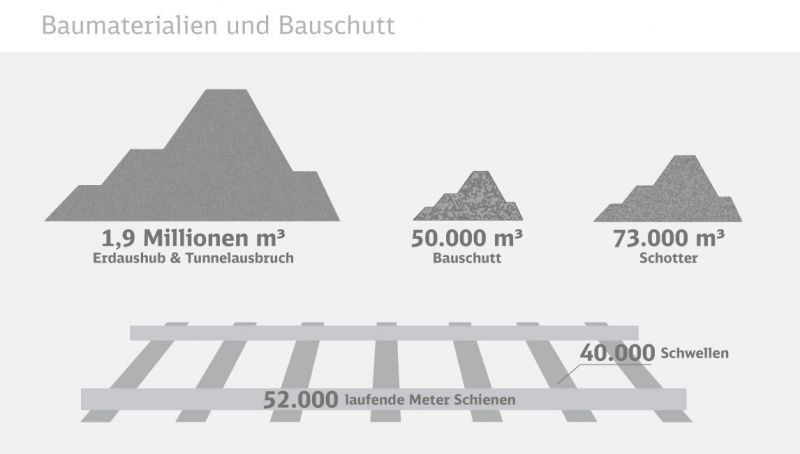 Die 2. Stammstrecke wird im Herzen der Landeshauptstadt München gebaut. Das Baugeschehen hat unmittelbaren Einfluss auf zahlreiche Anwohner und Gewerbetreibende, den Straßen- und Schienenverkehr sowie die Umwelt. Für die Baustellenplanung und den An- und Abtransport der Materialien wurde deshalb ein umfangreiches Logistikkonzept entwickelt. Es stellt sicher, dass zum Beispiel der öffentliche Personennahverkehr und der Individualverkehr während der Bauzeit nicht zum Erliegen kommen, dass Zugänge zu Wohnhäusern und Gewerbe erhalten bleiben und dass das öffentliche Leben möglichst wenig beeinträchtigt wird. Das Logistikkonzept wird ständig weiterentwickelt.
Moving the lion's share by rail
The plans envisage that the majority of the spoil will be transported away by rail. Around 40% of the material transports will take place via the two tunnel portals west of the Donnersberger Bridge and southwest of Leuchtenbergring station. These locations will provide rail connections and DB-owned land which will serve as temporary storage areas.
Construction sites which will require large-scale material transport include Laim station, the open excavation pits for the underground stations at Munich Main Station, Marienhof and Munich East and the junction beneath Maximilian Park. Because there are no railway sidings available for use at these construction sites, lorries will transport the material to the temporary storage areas.
Empfohlener redaktioneller Inhalt
An dieser Stelle finden Sie einen externen Inhalt von YouTube, der den Artikel ergänzt. Sie können ihn sich mit einem Klick anzeigen lassen und wieder ausblenden.
Munich Main Station
Construction traffic at Munich Main Station will be routed in a clockwise direction along the following streets: Arnulfstrasse > Bahnhofsplatz > Bayerstrasse > Paul-Heyse-Unterführung.
This is a densely built-up area, and disruptions for passengers, visitors and some businesses will be unavoidable. However, we are making every effort to minimise this inconvenience. Whenever possible, diversions will be offered and signs posted to this effect.
Around Munich Main Station, there are several construction site facilities with regular lorry traffic:
Northern loading area
Northern side of Bahnhofsplatz
Schützenstrasse
At the parking areas for the northern and southern entrances to the track hall (at the head of the platforms)
The bus stops, taxi ranks and parking spaces will be temporarily moved to other areas around the station.
Marienhof
The station will be built first, followed by the connection to the second core route tunnel. Spoil and building materials will therefore be transported by road.
The main transports will access the construction site from the eastern side. Heavy goods vehicles will arrive at the site via Tal and Sparkassenstrasse, and exit via Hofgraben and Maximilianstrasse. For special transports, such as those involving long vehicles which cannot negotiate Hofgraben, or in the event of road closures, heavy goods vehicles may also reach the inner ring road via Maffeistrasse > Promenadeplatz > Pacellistrasse.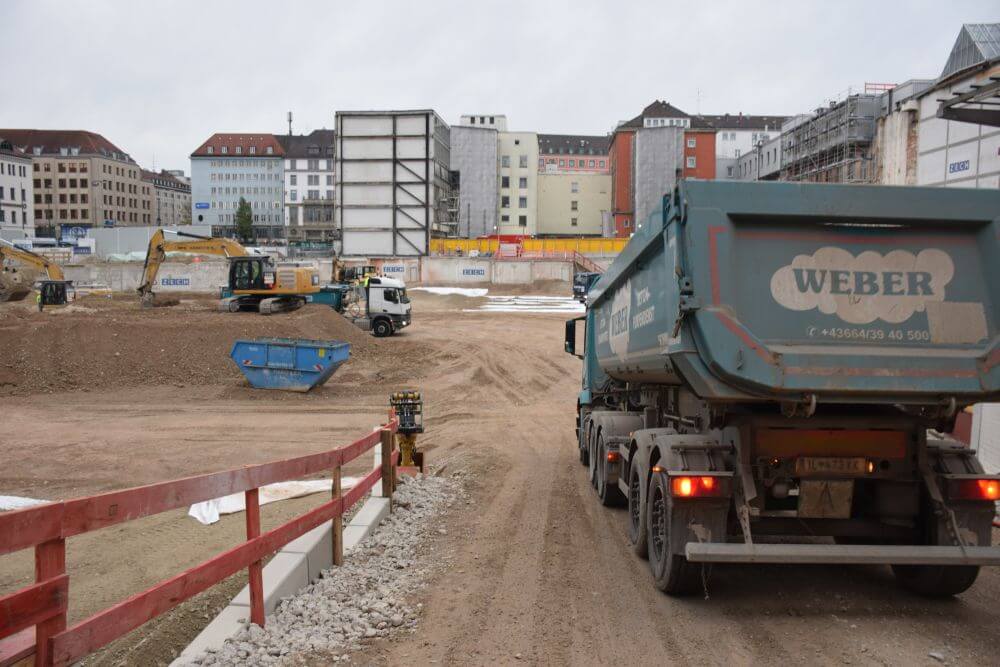 Ostbahnhof
Die neue unterirdische Station Ostbahnhof wird unter der Friedenstraße entstehen. Hierfür wurde ein neues Planfeststellungsverfahren eingereicht. Erst nach Beendigung dieses Verfahrens können die Logistikrouten verbindlich mitgeteilt werden.